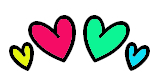 good morning all..:)
almost 3.30 am but i can't sleep..
sebenarnya dah tidur tadi then terjaga 2am tadi....mungkin tu gerakan dari Allah sebab memang tak solat isya' lagi dan makan ubat..:(..alhamdulillah Allah mengingatkan untuk sujud kepada Nya walaupun dah tertidur tapi still boleh bangun dan solat...thank you Allah..

yeaaayyy & yipppiiiiii!! give me a chance to yell and say alhamdulillahhhh! almost to finishing my study.....:P....great right??????5 years and a half im staying at that place ( in malacca ) and now im excited to going back and stay at my home forever and ever..eheeee....if Allah fullfill my wish laa..:P...im praying for that.....amin ya rabb...

5 years and a half studying and this is the final year!!! and next year I will be posting to the schools in the state of selangor ... .. ecececeh...confident must be a high level oke.. hee .. hopefully .. may Allah fullfill my wish ..

now 3 weeks
vacation
... vacation at home sweet home..:P..exam was great even im not prepared earlier and it is time to laze ...other work should be extended next semester.. Huu .. what to do ..: P

so
happy holiday
to all!
enjoy
your holiday and have
fun
.. :D