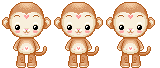 sorry lambat update..Ira baru habis interview SPP..tu nanti Ira cerita k..
ni sambungan entry

Jalan-jalan P.Pinang Part 1

okey...lepas dah turun dari Bukit Bendera, Ira and the gang terus ke Muzium Patung (Toy Museum)..ada macam2 patung!! ada dari filem Star Wars, Shrek, Barbie, Disney, 101 Dalmations, Superman, Spiderman, Pirates of Carribean dan banyak lagii...bak kata bro

Asrul 'Ilham' Sany, sangat ohhhsemmmm! (

bro, selamat pergi P.Pinang ek minggu ni..hee..jangan lupa dtg muzium ni) ;p..
eh lupa..harga tiket masuk ialah RM10 tau utk dewasa..kanak-kanak tak pasti...huu...
sebenarnya kan ada banyak sangat gambar dalam muzium ni..Ira takut korang muntah je tengok gambar banyak2..huu..jadinya Ira masukkan separuh je..rasanya ni pon dah banyak sangat..huuu...korang tengok lah gambar sendiri ea..
banyak kan?heee..kan dah cakap..;p..ahaaa jangan terkejut tau..yang rambut ala2 afro tu la hafiz..;p..tu rambut original tau..bukan diperm kat kedai..haha... ( Lea IsNawi, nak kenal tak ngan dia?kekeke)... lagi satu land mark utk ke muzium ni adalah Capthorne Orchid Hotel macam gambar Ira kat bawah ni..Muzium ni sebelah hotel ni dan berada di bahagian depan sikit..tapi boleh park kereta kat depan hotel ni..
eh lupa..takkan tak ada tips kan?
tipsnya satu je iaitu sila snap gambar banyak-banyak dengan toy yang ada..heeee
psss : Keadaan dalam muzium ni macam nak diubahsuai sebab lantainya mcm lantai sementara lepas tu ada patung/toy yang masih dalam kotak lagi..huu...satu lagi, sayangnya toy banyak sangat tapi ruang / kawasan dalam muzium ni macam terhad..so agak kurang teratur tapi still berbaloi la masuk... :)
nanti Ira sambung part 3 pulaa..heee